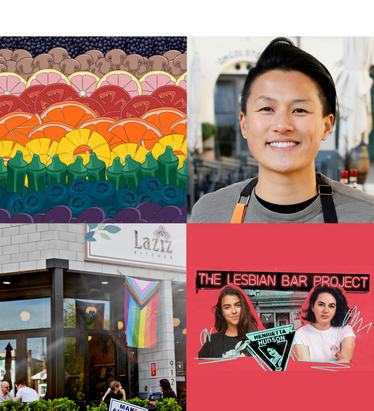 Resources
Delicious Reads: Pride Month
Our Pride month roundup of delicious reads that made their ways into our inboxes, social feeds and minds.
In the spirit of celebrating Pride, this month's Delicious Reads Roundup features resources on how to include LGBTQIA+ stories in your kids' reading—and why it is so important to do so—as well as stories and interviews to educate and entertain Taste Buds of all ages. Happy reading, and happy Pride!
By Mikkaka Overstreet
Bookriot
I wrote previously about how the idea that your children might be too young to learn about race or racism is an incorrect one, and pointed to a great emerging litany of online resources and books created by educators, psychologists, parents, and general experts in the field to address these issues in easy-to-comprehend, age-appropriate narratives. The same goes for the concept of queer identity. Preventing a child from learning about queer individuals and families because of their age is an implication that there is something inappropriate about queer individuals and families. There are ways to avoid that very dangerous narrative, and one of the best ways is through books. As Mikkaka Overstreet states in this article, "We all need diverse books. We all need queer books." Reading this article reminded me of so much of the writing done around the need for more racially diverse characters and narratives in literature as well—the same idea is absolutely true: "Reading LGBTQ-inclusive literature allows LGBTQ students and those with LGBTQ families to see mirrors of their own lives reflected back to them, while giving other students windows into those experiences." In other words, allowing all children to be seen and see value in their own lives, but also to be valued and understood by those around them. As a starting point, this list provides 14 LGBTQ board books for a baby's bookshelf, and this one provides a list of books about Stonewall for children, middle schoolers, and grownups.
 
By Anna Hezel
Taste
This interview with filmmakers Elina Street and Erica Rose is such an exciting prelude to their work. I love reading about how creatives and storytellers set out to tell one story, and end up finding that well so deep and beautiful that they can return to it endlessly. Their first project together was to document the dwindling number of lesbian bars in the country, a super fascinating topic considering how close an entire segment of history could be lost if not documented now. They also discuss their short documentary Kia Feeds the People, which follows Kia Damon, a Brooklyn-based chef who is "in the process of launching a local community organization to fight food apartheid." In discussing Chef Kia, I love their focus on her ethos really coming from her family spaces, both in her home and her chosen family in the community. 
 
By Mary-Frances Heck
Food & Wine
This is a collection of features compiled by Mary-Frances Heck last year, around the 50th anniversary of the protest efforts at the Stonewall Inn. She states that her interest in "the intersectionality of food and drink with gender and sexuality" drove this journey into exploring the role of food in the queer community. I especially like her approach of amplifying the perspectives of so many people in the food community whose voices haven't been heard nearly enough in food journalism and reporting. One of the features is this roundtable discussion moderated by Mary Frances Heck, featuring John-Carter Ayanna, Preeti Mistry (one of our friends and ambassadors!), Tiffani Faison, and Tiffanie Barriere. They discuss the question "What is queer food?" I love Preeti's take on why they believe that queer chefs and cooks are innately able to see things differently, because of knowing that they cannot be restricted by imposed and often arbitrary limitations. All of the pieces in the "Queer as Food" collection are worth a read, but I also defintely wanted to highlight this reading list of 13 cookbooks by lgbtq people of color. Cookbooks are one of my favorite ways to learn about history and traditions, and to share in some part of another person's life. LGBTQ+ authors, and particularly those who are not white, have been so underrepresented in traditional publishing. I know I'm grateful that  lists like this are out there to help us all refresh our shelves and perspectives. 
 
By John Birdsall
The New York Times
As someone who loves hearing about the origin stories and lore of institutional restaurants, I was absolutely fascinated by this story on Billy West and the legendary Zuni Cafe. At its heart is the notion of hospitality, of creating welcoming, delicious, lively spaces in which people can thrive. That his name and story couldn't be celebrated openly in the decades-long Zuni cafe narrative (in part because of the stigma of his AIDS diagnosis) is tragic—his legacy is a truly enduring one  in the food world.
 
By Erik Piepenburg
The New York Times
This article, like the interview with Elina Street and Erica Rose, poses an interesting and bittersweet issue. In many parts of the country, gay bars and restaurants are "facing a crisis of identity and purpose in a time that is in many ways more welcoming than the past, when gay people sought out gay restaurants because they offered safety and acceptance that couldn't be found elsewhere." While obviously the increasing acceptance of LGBTQ+ people and their families in any setting is an overwhelmingly positive thing, it is somewhat sad to think of the culture of gay restaurants receding when so much of the history is only being told now. The people missing the places that once catered almost exclusively to the gay community speak of the joy and relief of having one place in which they could be themselves, and the importance of community and solidarity. Anecdotes such as the one about the owner of Florent in NYC posting his T-cell counts on menu boards as a coded message of solidarity to his customers speak so profoundly to how critical it was for people to know they were safe there, and not alone. 
 
By Jeremy Allen
The New York Times
Similarly, this article describes the ways in which queer culture has shaped spaces for itself, but also shaped the greater culinary landscape for as long as there has been a culinary landscape. "Be it intersectional supper parties, Puerto Rican solidarity efforts, dining spots that serve as neighborhood safe spaces, or increasingly prominent queer culinary creatives, the food industry is mobilizing the L.G.B.T.Q. community." I loved the re-examination of one of the food world's most towering figures, James Beard, whose homosexuality was never addresseed publicly during his lifetime, and the full circle moment of Michael Twitty accepting a James Beard award so many years later. I'm also endlessly inspired by people harnessing their own stories and narratives to boldly create concepts, spaces, and businesses instead of waiting for traditional industry spaces to wake up and change themselves. "If you essentially don't have a seat at the table, just build your own table." 
 
By Laura Rosenfeld 
The Daily Dish
And finally—I know this happened last year, but Melissa King is inspirational always. I remember being so moved about how she donated 100% of her winnings from being voted fan-favorite chef to projects such as Black Visions Collective, The Trevor Project, Asian Americans for Equality, and Asian Youth Center to support Black, LGBTQ+, and Asian-American communities. That money can be life changing to a young chef, but King chose to use the platform and the funds for causes she believes in. She states, "I'm sort of this triple minority… and I want other people to be able to relate to that story, because I know that they have struggled as well and they've felt that. So I want them to know that they're not alone, and that there is someone out there that can achieve these goals, and you can sent your mind to things and make it happen in this world." She is intersectional-excellence in a person, and a perfect example of why we respect and admire our food heroes at Kalamata's Kitchen.
All imagery is sourced from and owned by the original publisher.