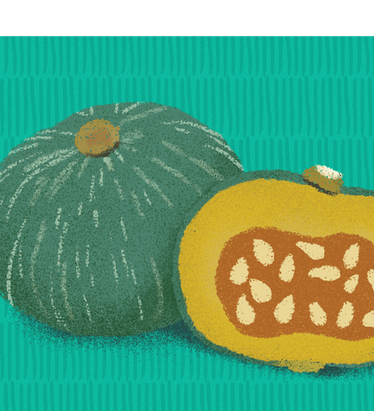 What's Cookin
Fall Squash Risotto Four Ways
Five incredible chefs share their spin on Fall Squash Risotto.
Kalamata asked four of her favorite chefs to create custom Fall Squash Risotto recipes to share with her Taste Buds in celebration of our newest "Humpty Dumpty had a great Fall Squash Risotto" t-shirt. Learn more about the inspiration behind each recipe, plus download all five recipes and get cookin'!
Sara's Spicy Maple & Curried Squash Risotto
"I love fall squash season. There is so much reward, for such little effort in the garden. Squash is so versatile; it can be cut into large pieces and toasted or grilled. Squash can be turned into a silky smooth purée or sliced thin and fried crispy. It has such a natural sweet/savory balance, with is something I always strive to achieve when building flavors. Butternut squash is one of the first to show up in our kitchen during the late summer season. Pairing it with curry powders brings in a few of the fall spices, without it going straight pumpkin pie spice. I always look for ways to fun ways to reimagine certain ingredients. Kuri squash is another favorite of mine, but doesn't show up until much later in the year. I thought how can I get kuri squash now...curry squash!"
Ron's 5-Spice Risotto
"I like this recipe because of the use of 5-spice powder. It bridges Italian and Chinese cuisines together and gives the risotto an unexpected twist."
Karen's Farro Risotto with Butternut Squash
"Risotto Milanese is a beautiful golden color due to the precious saffron threads added to it. They are floral and have an unmatched flavor. Using this traditional method, I like to swap Arborio rice for Farro, an ancient Roman grain full of nutty flavor and beautiful chewy texture. What a perfect way to try something new- by using it in a familiar dish! 
Nyesha's Kuri Curry Risotto
Nyesha's recipe features red kuri squash and Madras curry powder for an earthy, flavorful meal. Add a heaping scoop of mascarpone with finely grated Parmesan? Just perfect.