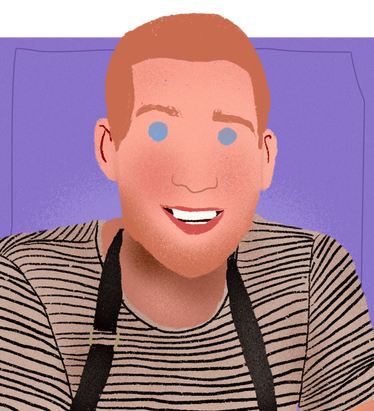 Taste Bud Profile
Greg Baxtrom
Occupation:
Chef, Restaurateur
Restaurants:
Olmsted, Maison Yaki
Chef Greg Baxtrom spent years of his childhood in the Boy Scouts learning how to do things for himself, and also learning the importance of never giving up. Chef Greg had an early passion for cooking, and worked his entire life to achieve his goals. Working abroad in some of the best restaurants in the world, he learned about the lives of fellow cooks that were completely different from his own. He distilled the lessons learned from his family, the Scouts, and his food experiences abroad into his award winning restaurants in Brooklyn, Olmsted and Maison Yaki.

Greg Baxtrom: I think my earliest food memory is the first time I ever "cooked" anything. It was the first time I was allowed to use the stove to melt butter for popcorn. It was so interesting to me, because even though it was just butter and just popcorn, the butter could look, smell, and taste different just leaving it longer on the stove. I think that interest watching an ingredient change really stuck with me. I was in the Boy Scouts for a very long time—from second grade as a Tiger Cub, all the way till the end of the end of high school. In the beginning, the reason I enjoyed it so much was that every last weekend of the month, my dad, my brother and I would go camping. There was always some level of do-it-yourself, and gradually you did everything by yourself—setting up the tent, cooking, etc. For example, at first you're responsible for just opening a can of beef stew to heat up, but eventually, you're responsible for making it from scratch. And I'm not necessarily that I love cooking over an open fire or whatever—I'm not that guy—but there was just something really special to me about making something that got the instant gratification of someone else enjoying it. 
 
 
I thrive in a very disciplined environment. I think that's why I was drawn to fine dining. I think that comes from my dad—I was not allowed to start anything and then quit without a very good reason. When I wanted to quit the Scouts in high school, he said "ok, but you have to go up to all 90 people in our troop, shake their hand, and thank them for their time." And I was afraid to do that, honestly. So I stood outside for about three meetings, but eventually I just went back inside and continued with it. I think that succeeding within a structure can be a skill. I learned discipline, hard work, dedication, persistence. As creative as I think I am, I do think that there's always the backbone of a "right way" and a "wrong way" that is more about the discipline of seeing something through than the actual resulting dish. 
 
 
My parents definitely knew I loved cooking from the age of probably 10 onwards. Instead of Saturday morning cartoons, I was watching Jaques Pepin, Julia Child, and Rick Bayless, and whatever other cooking shows were on PBS at the time. My aunt gave me my first cookbook. I got really into creating things, experimenting, feeling confident that even if I changed a recipe that I had never even made before, at least I'd be observing something interesting. I still do that today. 



I grew up in the Midwest, and everyone in my family was busy. All three of the kids had activities and clubs and athletics every night, but somehow we all still managed to sit down for dinner together. In hindsight, given how hectic everything probably was for my parents, it's really impressive. There's something really appealing about that regularity, that structure, and the fact that despite everything, eating together as a family was a priority. 
I went to culinary school, and then went to Spain for six months to work at El Bulli, Arzak, and Mugaritz. I didn't have any money to travel really, but back then, restaurants like that would provide housing for cooks. They put you up and feed you a staff meal and you work for free, and for the experience. I lived in this small, 3 bedroom apartment that had 3 sets of bunks beds in each room, and all the beds were full of guys and not one of us was from the same country. That experience was really new for me—I grew up in a place that was not diverse, despite its proximity to Chicago. And living with and working with all of these guys from all over the world, it's impossible not to feel something or learn something when one guy is saying he had to leave his country because he's gay, and this is a crime in his country. Another guy is saying that he has lived his whole life under a dictatorship. One is a Basque separatist who loved arguing about why they should separate from Spain. Another one is estranged from his family because he wanted to be a cook, not a doctor. And then some of them are ignorant idiots too but it was endlessly fascinating to be surrounded by people whose lives were so different from each other. This was a very meaningful experience for me. We all took turns making food from our respective countries—of course they requested that I make hamburgers—but I got to try so many different cuisines I never would have encountered otherwise. 
 
I'm lucky. I knew from a really early age that I wanted to cook, and everything I did was motivated by wanting to excel in my career. I worked at some of the best restaurants, and then I wanted to open my own.
One of my mentors in Chicago once told me, you're very talented, you have all the best restaurants under your belt for experience, but make sure your mom is going to be comfortable in your own restaurant. That advice took about four years to really settle in. And all of the experience that I had, all of the things that I learned—that became Olmsted. So I guess the lesson I learned most strongly through food was the power of persistence. There's something to the idea of listening to yourself when you know what you want to do, and not letting other things get in the way. In hindsight, do I wish I had more hobbies? Sure, maybe. But I knew that I wanted to cook, and I really worked at it from a young age, even given the opportunity to try other things out. Sometimes when you know, you know—so be persistent in pursuing the things that you want in your life.