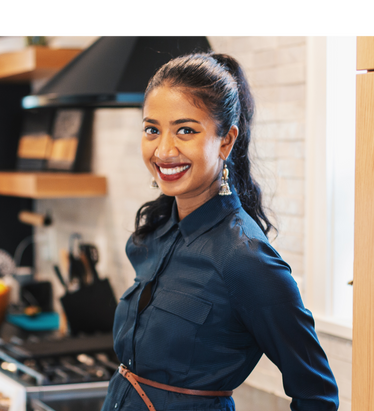 Resources
Holiday Drink Ideas for Little Taste Buds
Kalamata's Kitchen author and co-founder Sarah Thomas outlines how to setup a DIY drinks station for your kids this holiday season.
Set up a DIY drinks station so that your kids are part of the beverage festivities. Download our make-your-own drink activity guide for even more delicious ways to be adventurous with new flavors. We'd love to see what your little Taste Buds come up with!
I think it's just as important to be thoughtful about my non-alcoholic beverage options as I am about wine, especially at holiday times when I want to make sure everyone is feeling festive and included. Setting up a DIY drinks station like this is such an easy way for everyone to be involved, including kids! They're more likely to try something if they do it themselves, and with such a beautiful array of options to go for, it's a perfect way to give them an adventurous activity, make something delicious, and introduce them to new flavors as well. Also, people are always asking me to talk about tasting notes for wine, but trust me—it's just as fun to talk tasting notes with kids and these festive concoctions! 
The absolute easiest way to do this is to get a base drink you like, like lemonade or apple cider, and stir in an herb or a spice to give it something extra. I like to make my drinks with sparkling water, cider, or ginger beer for the added fizz—bubbles always feel special to me! From that point, you can pick and choose how many steps you want to add in based on how much time you have and the ingredients you have on hand—it's easy to make flavored simple syrups, but you can just as easily just add in the ingredients to a pitcher and let it be.
If you set up a station, here's the basic formula for drinks:
1. Start with a juice: 
Examples: Apple cider, pear nectar, lemonade, tart cherry, pineapple
Tip: If it's a very sweet juice or nectar, have some citrus like lemon or lime on hand. If it's a very tart juice, have some sweeteners on hand.
2. Add sweetener (optional): 
Examples: Honey, maple syrup, agave, coconut sugar, regular or flavored simple syrup
3. Add a flavor: 
Stir in herbs like rosemary, sage, tarragon, thyme, or spices like cinnamon, allspice, cardamom, cloves, nutmeg, or ginger. You can muddle them in the glass or serving vessel, stir them in, or make a syrup or infusion with them. 
Tip: If you want to make flavored syrups, heat water and sugar in a saucepan and stir until it dissolves. Add in your chosen herbs or spices. Bring to a boil, then remove from heat and let it cool, covered, till the flavor infuses. Strain and refrigerate. You can make these in advance! 
4. Make it sparkle! 
You can absolutely top with water, but I prefer to top my drinks with club soda, NA spicy ginger beer, sparkling cider, or sparkling grape juice!
5. Jazz it up!
Garnishes are optional, but very fun! Floating some frozen cranberries, cinnamon sticks, whole star anise, or sprigs of thyme or rosemary in the glass makes everything more festive. 

Ingredients: Apple cider + cinnamon sticks + cardamom pods + whole black peppercorns + whole cloves + fennel seeds + nutmeg + fresh sliced ginger 
Instructions: Bring all ingredients to a boil, then reduce to simmer for 10 more minutes. Remove from heat, let it cool, covered. Can be made a day ahead and refrigerated for more intense flavor. Strain before serving, either over ice, or reheated and served warm.
Ingredients: Pear nectar + lemon + rosemary + NA spicy ginger beer + rosemary sprig garnish 
Instructions: Shake pear nectar, lemon, small sprig of rosemary with ice. Pour into another glass over ice, top with ginger beer. Stir gently, garnish with fresh rosemary sprig. 

Ingredients: Tart cherry juice + maple syrup + cinnamon + sparkling water
Instructions: This is an easy one to batch—add juice to serving vessel, and sweeten to taste with maple syrup. Stir in cinnamon and chill. When ready to serve, add ice and sparkling water and stir gently to combine. You can also build this individually in glasses, so people can sweeten to their own taste! 
Ingredients: Equal parts orange, lemon, lime juices + maple syrup + sparkling apple cider 
Instructions: If batching this one, combine all juices in serving vessel and sweeten to taste with maple syrup. Stir to combine. Remember that the sparkling cider is also sweet, so don't go too heavy with your sweetener. When ready to serve, gently stir in sparkling cider, or top up individual glasses. 
Ingredients: Lemon juice + herb or spice infused simple syrup + regular or sparkling water 
Instructions: Example: Cardamom lemonade; make a simple syrup, stirring till sugar is dissolved. Remove from heat, add cardamom, cover and let it cool. add lemon juice and stir. Strain concentrate into a pitcher and chill till ready to use. Add cold water to the pitcher and stir—add fresh herbs like mint or tarragon if you'd like! Also optional: I like to add a pinch of salt!
Ingredients: Pineapple juice + lime juice + allspice + coconut sugar. Serve as is, or top with NA spicy ginger beer. 
Instructions: Because pineapple juice gets frothy when shaken, I like to build this one in a cocktail shaker for the foam! Add all ingredients except ginger beer to shaker, shake with ice, then pour into a glass and top with ginger beer, if using. If you want to batch this one, you can use your blender! Just add the ginger beer afterwards.