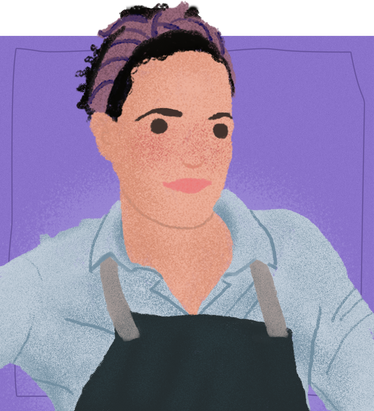 Taste Bud Profile
Jamilka Borges
Known For:
Eclectic coastal cuisine
Comfort Food:
Plantains with ketchup
Favorite Ingredient:
Garlic
Chef Jamilka Borges is my forever chef. We had the pleasure of working together in Pittsburgh for years, where I was the lucky witness (and taste-taster!) to so much of her extraordinary culinary talent. It has been such a joy to watch her career take off, and to see her succeed time and time again. Aside from her incredible food, I have to say it's amazing to watch her tireless energy towards helping anyone, anytime, with anything. She gives constantly, and is one of my greatest inspirations.

Jamilka Borges: I think the strongest memory from my childhood is of recao, or culantro. Smelling it always takes me back to being a kid at my grandma's house. She would include me in the cooking process by asking me to go pick these leaves from behind her house. It was my job to go inspect them, wash them, dry them, and then help to make sofrito, the base of all Puerto Rican cuisine. That smell to me is the most intoxicating. The garlic, the peppers, the recao—there's really nothing I don't love about that smell. Trying to make it here in Pittsburgh, it's not really the same—it's hard to get the exact peppers that we use on the island, and the culantro we get here is just different. I mean it's not like I'm picking it fresh from my grandma's backyard anymore! But any time I smell anything like it, it just takes me back to her kitchen, to her music, and to the dinners right after we'd cook together. My grandmother is the best cook in my family. She'd never say it, because she cooked for her family so she never considered it a "passion" of hers, it was just something she had to do. But truly, she had all of the flavor and all of the technique down. It was never anything fancy. By the time I was old enough to remember, she was a widow, trying to make every penny count. She'd use all these different cuts of meat that were "lesser", but she'd cook them for hours and they'd develop such wonderful flavor. She was so creative when it came to making enough food to feed her family. 
 
My mom has an inherent trait of generosity. It's really just in her. She just wants to do good. She cooks the same way I do, which is that we just want to take care of people and entertain. So when she felt driven to help people, the easiest way for her to do it was to do something she was good at, which was cooking. As a child, I can remember her making meals and driving around to feed homeless people, or going to shelters and organizing. She's one of those people who sees a problem and wants to mobilize and help and do something. And I think it's because she just has a need to take care of others. Through the years, she has been an inspiration for me. As chefs, I think it's important that we find ways to balance out our work. For example, I know that there is a percentage of the population that does not have access to restaurant food, so I am always trying to think of ways to make food more accessible in general. How can I be part of this community in a real way. I want to be present, I want to help identify issues, and I want to help—and like my mom, the easiest way for me to do it is through food. 
Food access is the thing that keeps me awake at night.
I have always gravitated towards organizations like @412foodrescue because they are changing the levels of access in communities in a real way. I'm drawn to it because I've experienced food insecurity, and have also seen the amount of food waste generated by restaurants. I think this is all solvable. When I'm thinking about recipes, I think about how I'm using the entire animal or vegetable. I try to pass that mindset to my staff too, so that everyone can adopt this mentality and together reduce the amount of waste in the restaurant. It's amazing what you start noticing when you pay attention—we wasted X lbs of vegetables, which could have been made into x number of meals. And I'm not talking about feeding people trash—I'm talking about avoiding that waste in the first place. It goes hand in hand. It makes me think more creatively. If you reduce your own waste, you reduce your cost to the restaurant. Now I can repurpose that money to support organizations that are doing real work in the community. The restaurant industry can be so frivolous in so many ways. It's easy to get caught up in the fancy aspects of the industry. But we all have a gift, which is that we're able to connect people over food. We can move ideas and people around in a city, people who have the ability to change so much. The people who are eating in our restaurants—these are people who have the power to change policy too. As a chef, I can help make connections on multiple levels—with the organizers I work with on a smaller scale to the diners who potentially have more power—that way it's less about charity and more about change. 
Food is supposed to be fun. And while you are eating and enjoying your food with your family and friends, I think it's worth it to bring attention to the fact that it's not just your family that is affected by the food you eat—you are supporting other families too. Generations of people who have dedicated their lives to growing food, and getting it to your table. So it's important to have awareness that the food you decide to eat has impact beyond your own enjoyment. Your choices can help others. You can also share a meal, you can donate your money, you can donate your time—don't underestimate how these little decisions can change somebody else's life. In so many ways, your time is even more valuable than your money. It's amazing to see whole families participate in food rescues, delivering it to people who really need it. You can see the awareness change in the kids you participate. Involving your kids in this kind of work will lead them to make more conscious decisions in their own lives. I believe that. And I think that this awareness in kids is one of the ways to create a better, more equitable food culture for all of us.