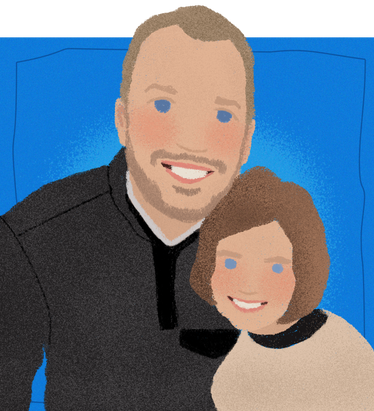 Taste Bud Profile
Karl Worley
Occupation:
Chef, Founder
Restaurants:
Biscuit Love Brunch, and 'za
Comfort Food:
Skillet fried chicken
Favorite Ingredient:
Anything Asha Gomez is cooking!
I made the mistake of going in to this interview hungry, and I didn't leave it any less so! Hearing Chef Karl describe his memories of togetherness around the breakfast table with fresh biscuits in front of him obviously made me crave them, but also made me think about the real meaning of communing with other people over food, and what we all have the chance to learn from each other. He has such a joy for learning and experiencing new things himself, and sharing it all with his daughter.

Karl Worley: I grew up in a very poor community in East Tennessee. I wish I could say I had more nostalgia about it, but it was difficult and my family was very divided.
What I remember most fondly about it was breakfast. Breakfast was the meal that brought everybody together. Everyone was happy because it was the beginning of the day and nothing had happened yet! Years later, when I started thinking about what we were going to do for the restaurant, that memory of everyone being together around one dish really resonated with me. I wanted to offer that feeling to people in an everyday way, through an elevated version of foods I grew up with. 
Biscuits were definitely a major feature of breakfast for me. I have always loved the feeling you get when you eat bread that just came out of the oven. Knowing that someone baked it for you made it smell and taste that much better.
My mother, grandmother, and all my aunts and uncles had different recipes (they couldn't agree on that either), but on most Southern tables, you'll always find that biscuits are what brings everybody together. I think it's possible that there's one thing in every culture that has that power. For my family, it just happened to be biscuits. The medium doesn't really matter in the end—it's the idea of communing around something. 
There was a man who really was considered the grandfather of Southern food who passed away a few years ago who used to say that "food was the great equalizer." He was referring specifically to a restaurant called Arnold's, which is an old meat-and-three in town. On any given day you could walk into the place to see the Governor sitting next to a plumber and they'd find things to talk about.
 
I think food has that ability to bridge divides.
I recently had an experience like that myself. My family and I try to travel to Europe every year, but obviously plans changed this year. We decided to drive from Tennessee to NC for a different sort of vacation. We have a great friend in Atlanta, Asha Gomez. I texted her that we'd be coming through, and that I'd love to quickly stop by to pick up some of the food that she's making at The Third Space. When we arrived, she had this enormous spread on the table. In true Asha style, she waved off my concerns for her time by saying "Oh, I just threw it together in 15 minutes." She's incredibly gracious. We sat down to lunch, and started talking about the Southern Food Alliance. It has been examined through a critical lens this year, and there has been a lot going on. I realized very quickly that Asha and I had completely different perspectives on it. I'm a 42 year old white man. I've never lived the experiences that Asha lived as a non-white female chef in the South. As we were eating, I got to see the world through her eyes— I had never once thought of it the way she had lived it. Food gives people like me (who like to talk too much) time to shut your mouth and just listen. I left Asha's table full of incredible food but also new perspective. I saw a side of a story I'd never seen before, and food brought us to that communal point together. I feel like there are so many missed opportunities for people these days. Life is faster now, and we don't always take the time to sit down over a meal and just ask—and really care—how everybody's day was. 
Up until a few years ago, I didn't have the chance to travel the world and eat and experience life that way. So I had all these cookbooks that I used to travel through food instead. This year in lockdown, I've done that again.
I'm buying cookbooks at an insane rate because I can't travel and I can't eat abroad, and I want my child to have the opportunity to eat the world whether we can get on a plane or not. I want her to be exposed. I know a lot of parents don't have the luxury of doing this for their kids, or don't know how to, or worse—don't want to. That's tough for me to understand. Kids will want new experiences if their parents are excited about them too. Wanting to know the stories behind new experiences is exactly the way to get a kid excited about it. When I tell my daughter that we're eating Indian food for dinner, she's immediately invested in the meal and looks forward to it because of Asha, and her incredible capacity for storytelling as well as making delicious food. That meal changed my daughter's world. 
Last year we got to spend some time in Milan. I asked for a local's recommendations, and took him up on a spot called Trippa. My daughter asked what it meant and what their signature dish was. We told her it was tripe, and she said "great" and just ate it. As she was eating it, she was really getting in to it— "this is good. I mean this is REALLY good!" And I got to watch my child approach something that sounds weird or taboo to a lot of adults with complete openness, which was amazing. Afterwards, we had multiple conversations about it, including how our culture views tripe as something to be thrown away, many cultures around the world celebrate it in their cuisines. We talked about how it's prepared in different parts of the world, and she wanted to try those dishes. Seeing her celebrate the exploration of different foods is just incredible, and I feel lucky as a parent to witness her do it. Sharing an experience around food is one of the most intimate things we can all do together. I want to share that with my daughter as much as possible, so that when she's older she finds herself in positions to share it with other.