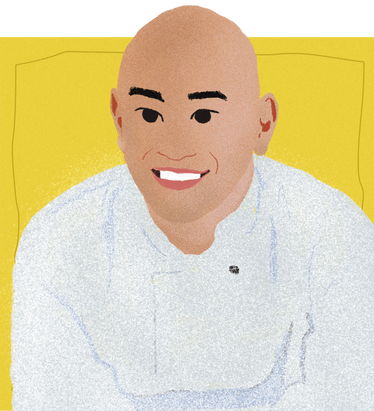 Taste Bud Profile
Tim Ma
Known For:
Creme Fraiche Wings
Restaurants:
American Son, Lucky Danger
Comfort Food:
Pistachio Ice Cream
Favorite Ingredient:
Oyster sauce. I like to dip hard boiled eggs in it
Favorite Way to Give Back:
Starting the non-profit Chefs Stopping AAPI Hate
Chef Tim Ma has transformed the experiences of his family into a palpable energy in all of his restaurants. Honoring their lives and culture has led to the creation of several spots that tell the story of an "American son" with a strong tie to his identity, history, and culture. Chef Tim works tirelessly to advance acceptance through food, and the celebration of what makes us unique.

Tim Ma: My uncle, Paul Ma, had a pretty significant restaurant in Yorktown Heights, NY. Our family life revolved around my grandparents, who lived next to the restaurant. I can remember watching my grandfather making steamed buns every day of his life. He was such a master at it, almost a machine. He had this methodical, repetitive consistency, but he also clearly enjoyed doing it. It was all intertwined. That memory is significant because I think it subconsciously influenced my own patterns as a chef—I'm really good at doing things over and over again. I'm a creature of habit in the same way as my grandfather.
Making potstickers was a whole family affair and still is to this day. The process of sitting around a table, methodically performing all the steps, and gossiping the whole time was such a huge part of my growing up. The more people involved, the better the stories are, by the way! The recipe was passed down through the women in my family—they're the gatekeepers of the food and our family history.
My uncle and I are part of an ongoing exhibit at the Smithsonian Museum named The Migrant's Table that displays the link between food, family, and culture. It was incredibly meaningful to be a part of it because in my life, being different wasn't always easy or celebrated—I spent part of my childhood in rural Arkansas in the 70s and 80s, where my family experienced racism and social isolation. As a result, my parents, who are incredibly proud of their Chinese heritage, language, culture, etc, decided to raise my sister and me only speaking English, cooking American food for us, and trying to assimilate as much as possible. As a result, we lost our Chinese language, and our familiarity with the culture, to the point that they would later introduce me as their "American son" to their Chinese friends to explain why I couldn't speak Chinese.
 
Their strength and resilience made me into the person I am today—I don't speak the language and I don't cook Chinese food, but I have a lot of pride in my family and our traditions.
A handwritten letter to my parents now lives on the menu at one of my restaurants. I named it American Son in their honor, thanking them for that strength and pride. I want people to know that the easiest way to be introduced to anyone's culture is through food. I want my own children to be accepting of 'the different', so we can celebrate and not fear it.