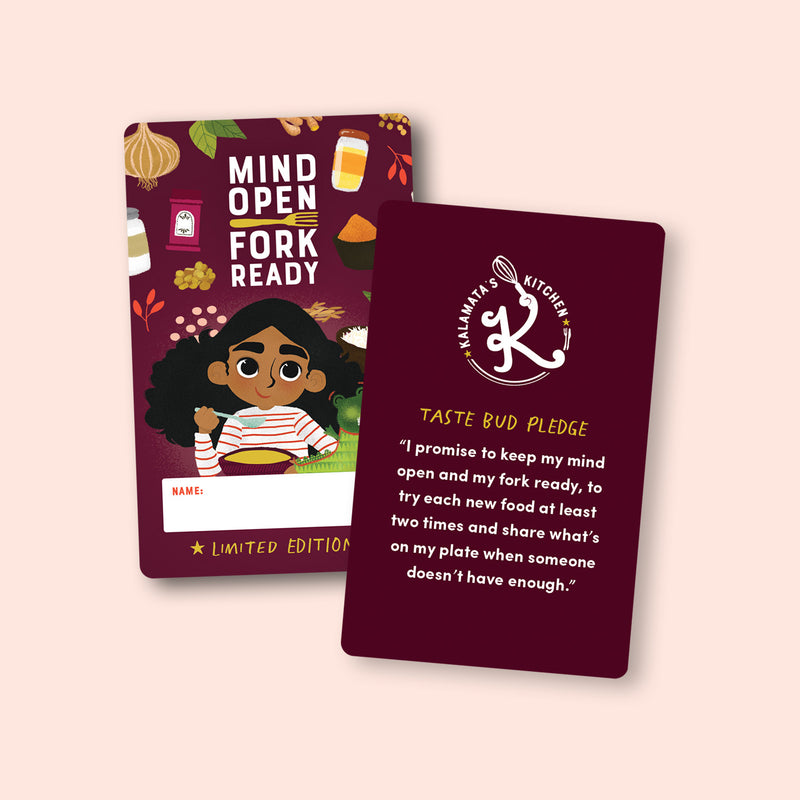 Special Edition Bundle
Kalamata's Kitchen
Go on a delicious Food Adventure with Kalamata and her alligator pal, Al Dente, in a charming story about facing fears and overcoming back-to-school jitters.
"Kalamata's Kitchen is an inspiring picture book for the next generation of curious eaters."

For Taste Buds ages 4-8
Tomorrow is Kalamata's first day at a new school, and she's nervous! What if the kids aren't friendly? Or worse, what if they don't like alligators!? Inspired by the scents whooshing from her mama's spice cabinet, Kalamata remembers when she overcame her fears during her family's visit to India that summer. As Kalamata and Al Dente return on a magical Food Adventure filled with curry leaf forests, fluffy rice snowflakes and mustard seed fireworks, will Kalamata find her bravery yet again?
Special Edition Bundle Includes:
Signed copy of Kalamata's Kitchen
Taste Bud Pledge Card
Sticker sheet
Shipping & Returns
In stock products ship within 48 hours. We ship domestic orders via the USPS Priority Mail Service from our homebase in New Hampshire. 

Ground Shipping
Arrives 1-7 days from time of shipping.
– $2: Orders $1-$19.99
– $5: Orders $20-$49.99
– $8: Orders $50-$74.99
– Free Shipping on all orders of $75 or more
Expedited Shipping (optional)
Arrives 1-3 days from time of shipping
– $12 Flat Rate Shipping
Returns
We accept returns on all products within 30 days of purchase. 
How Our Products Are Developed
We focus on creating high-quality products that will inspire families to go on adventures with food. We believe these experiences will not only allow kids to explore all the delicious things the wold has to offer, but will teach them to be like Kalamata herself: curious, courageous and compassionate.
While Food Adventures are for Taste Buds of all ages, our products are developed for kids in the 3-8 age range.
"The text is lyrical and poetic, conjuring clever and unexpected images that invoke all five senses."
"A food adventure your children will love."
"Kalamata's Kitchen helps kids run toward the unfamiliar."
Meet the Author Sarah Thomas
Through the adventures of Kal and Al, Sarah hopes to create a confident character that other children of color can see themselves in, while also encouraging all kids to look at different foods and cultures with a sense of curiosity and compassion.
Celebrating a Whole World Full of Flavor
We believe that food is the perfect way to experience the diversity that exists in the world — and that kids are never too young to start exploring.